It had been Many years since I'd last visited eastern Long Island, and so when I arranged to meet Conni Cross at her Cutchogue home and garden, my mind went back to images formed during childhood trips to Montauk or Orient Point. Back then, the landscape seemed to consist mostly of pockets of scrub oak set amid acre upon acre of flat, sandy potato fields, interrupted occasionally, by 30-foot-tall wind-breaks of common privet, a despised shrub turned unexpectedly graceful. Most of that was gone, of course, replaced by housing developments and boutique wineries. But as I discovered when I arrived at Cross's garden, the change hasn't been all bad. Far from it.
Over the last ten years, Cross has transformed the five acres of sandy soil and scrubby oak and cherry woodland around her house into a series of gardens, each with its own character and distinctive plant palette. By and large, herbaceous plants are not at the center of this palette, although Cross uses them freely to provide spots of seasonal color or, as in the case of ornamental grasses and yuccas, to contribute striking forms. But their main purpose is to set off the garden's real glory: its woody plants. Here a bit of history is in order.
The garden owes its existence to the day in 1980 when Cross, a onetime interior designer who had turned her attention to landscapes, met Jim Cross, proprietor of Environmentals Nursery, renowned as one of the best wholesale sources of choice woody plants in the Northeast. "I never studied horticalture," she freely admits. "My only training was in art. But I was eager to learn about plants, and I was persistent." That curiosity and persistence paid off, for eventually she and Jim were married, built a house, and set to work developing the garden. Jim Cross died in August 1995; Conni is continuing the nursery.) The garden thus had two key influences in its formative years: the constant stream of unusual woody plants that Jim was eager to test in the landscape, and Conni's careful selection and placement of those plants so that the garden would be a place of beauty and not a mere collector's jumble.
With an abundant source of plants so close at hand, many gardeners would have succumbed to the temptation to run amok with rarities, but Cross has managed to avoid that pitfall. Although the eye is occasionally drawn to a stunning specimen, such as Cornus kousa `Gold Star', with its crisp gold-and-emerald variegation, or the crape myrtle Lagerstroemia Natchez', the overall effect of the garden's framework of trees and shrubs is to tie the various parts of the garden together into a satisfying whole. Cross claims that her training in art encouraged the habit of balancing the aesthetic qualities of a plant against its overall utility in the landscape. "I don't believe in saying, `This is the spring garden, this is the winter garden,'" she remarks. "A good plant for me is one that fills a certain need, one that will look good at least three seasons of the year." This is not to say, however, that she regards plants as, in the distasteful phrase so dear to many landscape designers, plant material. Her enthusiasm for foliage color and texture, for garden pictures of all kinds, from large-scale views to intimate vignettes, is thoroughly infectious. As we pass a large specimen of Hydrangea paniculata `Tardiva' in stunning full bloom, her face registers delight mingled with awe. "Isn't this gorgeous?" she asks. "I don't know why you don't see it used more often."
Cross's skill becomes apparent as soon as you see the entry garden, a tapestry of foliage that wraps around the low north side of her handsome, contemporary house. This planting serves two purposes: the shade-tolerant trees and shrubs, including Japanese maples, evergreen azaleas, small-leaved rhododendrons, and daphnes, all of which remain handsome throughout the winter, are lovely in themselves. But they also provide valuable insulation for the house, which was built along solar principles. The south side of the house (actually, it faces 12 degrees west of south, to capture the maximum amount of sunlight) presents a dramatic contrast: 10-foot picture windows on the first floor, and an enclosed second-story porch-cum-greenhouse that look out onto the rich spectacle behind the house. A heather garden and an alpine garden directly adjacent to the house are good examples of Cross's aesthetic sleight-of-hand. As many gardeners have discovered to their sorrow, it is fiendishly difficult to integrate these kinds of gardens into a larger scheme–the plants that inhabit them are starkly out of scale with the great majority of garden subjects, and often have exacting cultural requirements as well. Simply put, if you stick a scree bed and a bunch of boulders in the middle of the lawn, it's going to look like hell. Cross has avoided this hazard by siting the two gardens on a short slope that runs from the lawn down to the house. Thus the alpines, heathers, and dwarf conifers are close to the windows so that they can be viewed at close range in all weathers, and the picturesque tufa boulders that hold the slope in place and provide a prime habitat for the plants do not obtrude into the larger landscape. If you must have a rock garden, I can't think of a much better way to do it.
Also abutting the house and merging with the heather garden is the east garden, with a woody framework of Japanese maples, graceful, white-flowered Styrax japonica, the dwarf weeping Chinese dogwood Cornus kousa `Elizabeth Lustgarten', and a robust specimen of the variegated daphne `Carol Mackie'. For the connoisseur of the unusual, there is xSycoparrotia semidecidua, a bigeneric hybrid of two members of the witch hazel family, Sycopsis sinensis and Parrotia persica. In mild winters this large, open shrub with glossy, dark green foliage is almost evergreen; then in February and March the branches are densely furred with small reddish-yellow flowers. Knitting the woody plants together are perennials chosen for their attractive foliage or long blooming period: the gold-and-green-striped grass Hakonechloa macra `Aureola', blue-flowered Ceratsostigma plumhaginoides, hostas, Japanese anemones, and the tender Verhena bonariensis, which self-sows from year to year. Although the herbaceous plants seem to be thriving next to their woody neighbors, Cross casts a dark glance at the styrax. "Pretty soon," she says, "this is coming out. If I'd known 10 years ago what a dense root system it was going to make, I never would have planted it. The herbaceous things growing under it need constant watering and replanting. On the other hand, the halesia in the east border is deep-rooted, doesn't suck up the moisture, and works much better in a mixed border like this."
More carefully chosen foliage greets the eye on the other side of the lawn that runs along the back of the house. Here skimmias, dwarf pines and spruces, a weeping hemlock, and a golden Hinoki cypress keep company with an ancient-looking, lichen-covered cherry. As our tour continues, however, it becomes clear that what can be glimpsed from the house is but a small portion of the garden's offerings. Behind and to the left of these trees and shrubs, and just beyond a free-form swimming pool, rises a hill covered with European white birches and mountain hemlocks. Even though the hill is probably no more than 10 feet high, it functions as a miniature mountain, an effect aided by the artfully contrived waterfall that runs down its flank into the pool. Sadly, the birches are slowly succumbing to borers. When they finally go, they will be replaced with the native, borer-resistant river birch (Betula nigra) or the beautiful and durable white-barked Himalayan birch (B. jaquemontii).
The visitor who climbs down the far side of the hill and turns back to take in the view receives a pleasant surprise: from this vantage point the hill is a cascade of ornamental grasses (especially Pennisetum alopecurojdes), dwarf and prostrate conifers, and the mottled purple foliage of Berberis `Rose Glow'. It's an inspired interpretation of the "dry stream" that is part of many Japanese gardens, but it's much livelier here for having been executed in plants rather than rounded stones. At its base lies a body of real water–an irrigation pond ringed for most of its perimeter with dense wild growth. The shore of the pond farthest from the house, however, Cross has claimed for a dry garden. (Because the pond is artificial, the area surrounding it is relatively parched.) Beds mulched with gravel are home to bold foliage plants such as artemisias, verbascums, and yuccas, with just enough help from alliums, brooms, and daphnes to keep the scene colorful throughout the summer. At first glance, the edge of a pond might seem an incongruous place for dry-climate plants, but the result is undeniably pleasing: the dramatic shapes and imposing dimensions of the plants' foliage look all the more striking in juxtaposition with the green, still surface of the water.
Continuing along the path, we come to beds planted with hazy-blue-flowered caryopteris, purple-leaved barberry, towering, and dusky pink joe-pye weed, all of which set off a wide assortment of heathers. This part of the garden gains in presence from two unusual pines that dominate the beds: Pinus virginiana `Watt's Golden', whose needles turn a bright yellow in winter, and the blue-needled P. flexilis `Vanderwolfe Pyramid'. Cross looks at the trees' colorful foliage with obvious admiration. "This might as well be a flower garden," she says, and with good reason–not many flowers could match the eye-catching colors and textures of the heathers against the blue and yellow pines.
The area just west of the dry garden started out as a mixed border but has gradually evolved into a rose garden–a process that, given the garden's sandy soil, was not altogether smooth. Over time, however, Cross has discovered which varieties will put up with less-than-ideal soil and still put on a season-long display of bloom. `White Meidiland' is not only unstinting with its dense clusters of small flowers, but also forms a thick groundcover. The climber `Aloha'–which can also be trained into a large shrub-produces rich, coral-pink clusters of bloom with a heady fragrance, while the robust climber `New Dawn' offers delicate, double, blush-tinted flowers and glossy, disease-resistant foliage, even if its perfume is not quite as intense.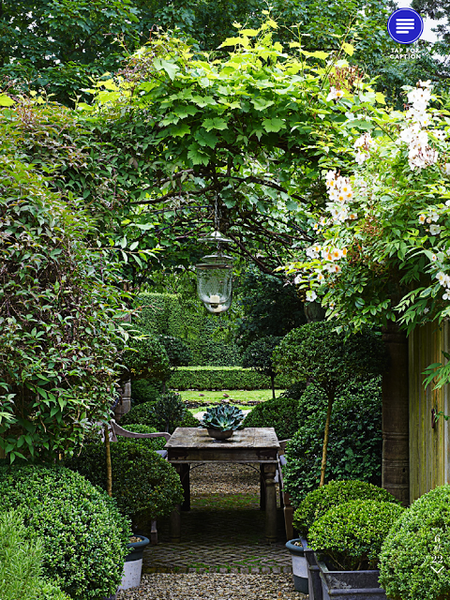 From the heather and rose gardens, a pine-needle path leads to an area where the woody plants yield their dominance–a cutting garden bright with Aster `Alma Potschke', cleomes, dahlias, obedient plant, phlox, mealycup sage, and snapdragons. Here and there the huge white saucers of an annual hybrid hibiscus sparkle among the glowing pinks, crimsons, blues, and purples. The storybook quality of these bold, bright flowers is entirely appropriate, for we are now standing in front of what may be the garden's most famous feature–the playhouse, a child's dream come true, complete with scaled-down furniture, dishes, and curtains. When asked about its genesis, Cross jokingly replies, "Well, I couldn't have just a plain old swing set." Actually, the playhouse had its origin in an illustration in her daughter's Mother Goose book. "When I saw that picture," Cross says, "I knew it could be translated into reality, and that my daughter would love it. I got together with a carpenter and we had the whole thing down on foolscap in about two minutes." The result makes even a top-of-the-line swing set pale in comparison: fine moldings and gingerbread ornaments frame the double-hung windows; the railed porch extends into a miniature pergola. But even though the playhouse was built to be fun, Cross's sensitive planting on and around it has made it an essential part of the garden as a whole. The pergola and porch, for example, are festooned with honeysuckles, trumpet vine, and Clematis montana, while the picket fence that surrounds the playhouse forms the backdrop for a cottagey border of roses, lilies, baby's breath, and lamb's ears.
Until a few years ago, the playhouse marked the garden's boundary, but, ever ready for a new challenge, Cross decided to push the garden outward and tackle what had been a dumping area amid a marshy waste of scrub oak and brambles. "The benefits of drainage and compost are evident here," she says. Yes, along with benefits of a lot of backbreaking labor and skillful planning. Today the former dump is the site of a rustic gazebo and twin ponds, all sheltered by junipers and arborvitaes and ringed by azaleas and rhododendrons. This tranquil scene is guarded by a pair of stone greyhounds and framed by a gently curving stone wall. In the pools, blue tropical water lilies, water hyacinths, and variegated Iris pseudacorus luxuriate. Although the ponds hold fish as well, Cross has not found it necessary to install a filter system–the flora and fauna seem to have established their own ecological balance. Around the ponds, the moist soil sustains a subtle tapestry of foliar colors and textures: purple-leaved Ajuga reptans, bergenias, ferns, primulas, variegated hostas, the licorice-colored blades of Ophiopogon planiscapus `Nigrescens', and the hardy Begonia grandis, which looks like it just escaped from a tropical conservatory. Originally, Cross had planned to train a wisteria up the gazebo, but she had second thoughts. "With all the plants we plopped in here," she says, "we needed some visual relief." Her instincts were right. The spare frame of the gazebo is certainly handsome enough in its own right; had it been cloaked with wisteria, the effect of the lush foliage plants surrounding it would have been muted.
I ask Cross if, with this latest addition, the garden is now complete. I should have known better. "My next project," Cross says with a gleam in her eye, "will be to clear out the woods behind the twin ponds. It would be the perfect spot for a small stone cottage with a walled garden." Given what I have seen already, I haven't the faintest doubt that, before long, there will indeed be a stone cottage nestled in its clearing beyond the ponds and that, by means of its trees and shrubs, it will be woven into the rest of the graden. It is just one more example of Cross's determination to bring order and beauty to her surroundings, and to embody her ideas with passion and energy.